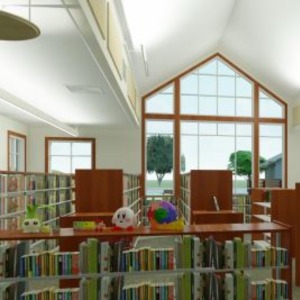 August 13, 2021
By isilva
Children's Library: An Update
The new Children's Library will be quite a sight to behold!
Situated just across from what will be the new Zelinsky Park, the Children's Library has nearly double the space of the old one with brand-new features and amenities designed just for the little ones.
Our Children's Librarians continue to work tirelessly to help instill in our youngest patrons a lifelong love of libraries and reading, and this dynamic new space will help them and their families do just that!
Included in the new design will be:
• A dedicated storytime room that can double as a craft space
• An enclosed patio for outdoor reading, snacks, and playtime
• Plenty of window seating, perfect for curling up with a good book
• Study tables and counter spaces for group and project-based work
• A collection size double that of the old Children's Library
Because the Children's Library is such a popular destination for families with small children, we have made additional naming opportunities available to the community.
Those opportunities include (but are not limited to):
• New tablets and public computers
• Installing the mural
• Soft playground flooring for the patio
• Toys for "Stay and Play" Storytime
• Storytime puppet collection
• Toddler toys for the family play space
• New Art Clock for the wall
• Funding the Parent/Teacher collection