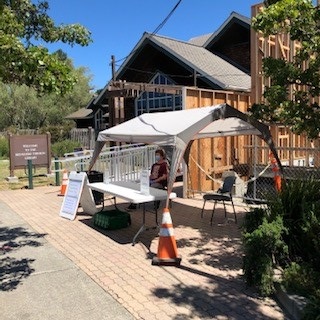 June 11, 2020
By joey
Curbside Service Available!
Drop off old books, pick up new ones
The Library is open for Curbside pickups:
Monday-Saturday 10am-4pm
Library items may be returned anytime at the Curbside Returns box outside the Library. 
How do I start?
Log in to your account and start requesting books and media.
Find a book and click the green Place Hold button.
If you would like to place a hold on a Bestseller Book or 7-Day Movie that is currently on the shelf, you can email [email protected] or call 415.789.2661 to pick up the title at the Belvedere Tiburon Library
How do I pick up?
Call us to schedule your cubside pick-up.
415.789.2665 x2222
If you're outside, text us your name and we will bring your items out.
415.969.4153
Social Distancing Protocols Observed
Face coverings are required and social distancing will be observed.
All returns will be quarantined for 24 hours before being checked in.
---
The Library building is closed to the public, as are the book returns in the Tiburon Town Hall parking lot and Cove Shopping Center.