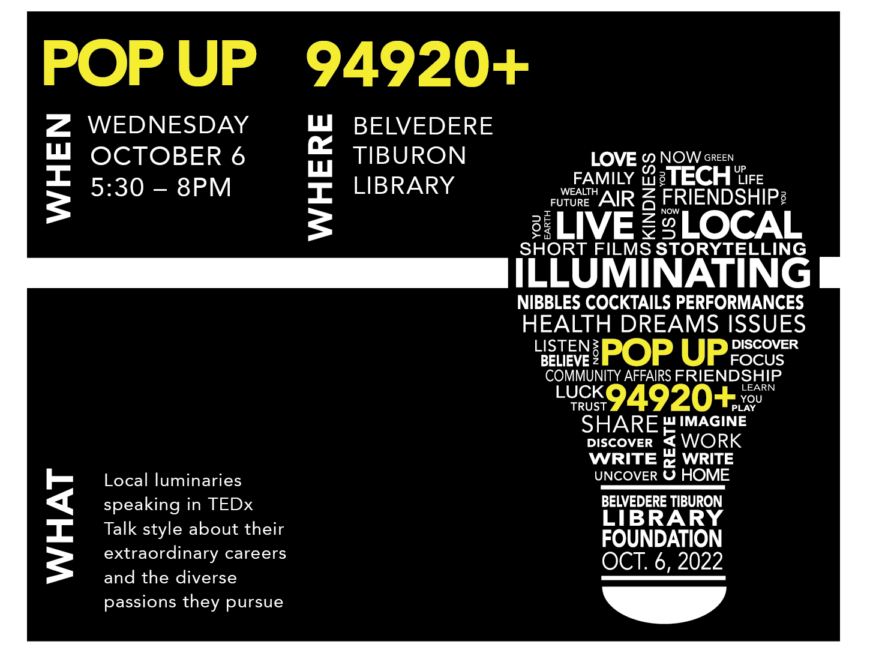 September 21, 2022
Pop Up 94920 + is back!
Live, Local, Illuminating
We are excited to host POP UP 94920+ again after a two-year Covid hiatus. This will be the first time the event will be held at the new library space.
We feature local luminaries speaking in TEDx Talk style about their extraordinary careers and the diverse passions they pursue, and over the next few weeks we'll be sharing this year's POP UP 94920+ .
Some of the past POP UP 94920+ speakers have included Academy Award-winning producers, storytellers, novelists, musicians, Pixar animators, entrepreneurs, pilots, designers, publishers, pioneering medics and scientists, climate activists, a renowned investigative journalist, and one of San Francisco's prima ballerinas.
POP UP 94920+ is an essential fundraiser for our library, exemplifying its commitment to learning and keeping current. We are indeed LIVE, LOCAL, and ILLUMINATING!