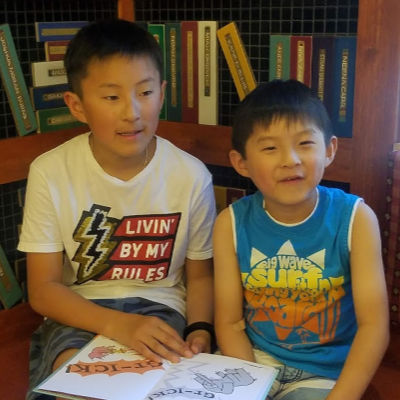 July 11, 2019
By jdunn
Reading buddies
A fun way to encourage reading
Reading Buddies, a collaboration between Children and Teen Services, launched in May. Through Reading Buddies, children in grades K-4 read to a teen volunteer to increase reading confidence and make reading fun.
The ultimate goal is to foster a love of reading in our youngest patrons and to recognize our teens as a valuable community resource. Our first round of reading sessions ran through the month of May with an overwhelmingly positive response from both readers and volunteers. 
Lucia, a kindergartner, reports that Reading Buddies makes her "happy because you can learn new words!" According to Kindergartner Hazel, "It's fun! I really like it. I like reading." 
Our volunteers also shared what the program was like for them. Del Mar Middle School student, Gemma, says "It's a fun way to get your volunteering done. You get to hang out with younger kids you normally wouldn't get to hang with." 
Chloe, grade 6, reports that "it's really fun to see little kids read and to read with them!" 
Keep an eye out for the return of our great new program for kids and teens, Reading Buddies, later this fall. Teens interested in earning community service credit for school as a Teen Reading Buddy may contact Teen Services Librarian, Rebecca Jung. Families interested in enrolling their children in grades K-4 should contact the Children's Department.