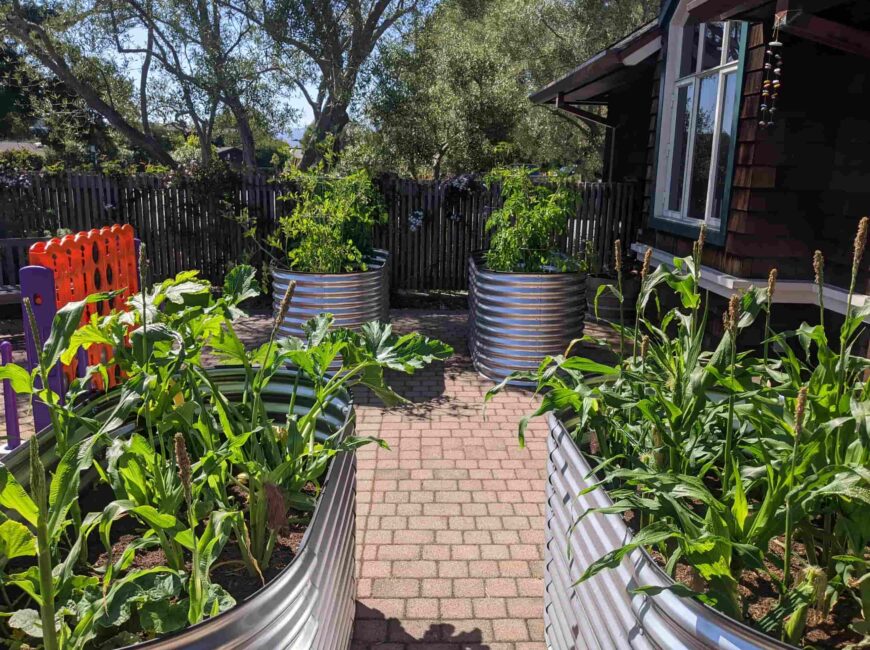 August 4, 2023
Teen Garden Club
The Teen Patio garden is looking good! Come and visit!
This summer, the Library launched the Teen Garden Club, providing community service opportunities to middle and high school students who want to learn more about gardening and give back to the community while doing hands-on gardening activities on the Teen Patio.
Sponsored by the Tiburon Peninsula Foundation and in partnership with neighboring Ground Nursery, the Teen Garden now boasts a bounty of tomatoes, basil, squash, cucumbers, corn, and berries, and a beneficial pollinator border, thanks to the hard work of ten (10) teen volunteers who participated in the Library's Green Fair and Garden Work Days.
Teens also made upcycled wind chimes to scare off the crows! Avery Tucker, age 16, is the lead volunteer and an employee of Ground Nursery; she is responsible for helping to recruit other teens, maintaining seedlings, and troubleshooting when issues arise in the garden.
A Teen Volunteer Appreciation Pizza Party will be held soon. Harvesting will occur, providing delicious pizza toppings, and upcoming events will include educational presentations by Marin Master Gardeners.