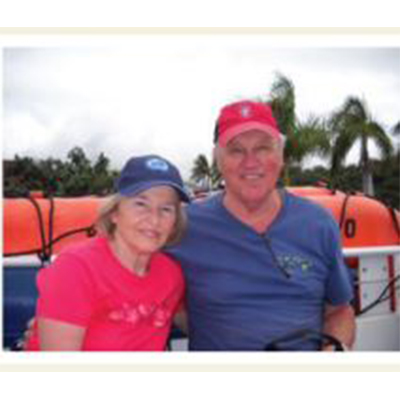 July 13, 2018
By isilva
Volunteer Highlight: David and Mary Eklund
How long have you been married,  lived in the Bay Area, and volunteered at Corner Books?
We have been married over 50 years
(53 to be exact). We have lived in Tiburon 43 years, having moved from the East Coast. We have volunteered at Corner Books for about 7 or 8 years.
As active community members, what other organizations do you volunteer for?
David likes to garden, travel, and keep up with college friends, as well as family.
He also keeps busy being on the Richardson Bay Sanitary District Board. I like to read, do ancestry, and plan travel with family
and friends.
What is the most satisfying part of your volunteer work?
I like helping people find books or recommending good reads to them. David likes talking to old and new customers and helping with donations (those books can be mighty heavy).
What do you like to do when you are not volunteering?
We are now awaiting the arrival of four of David's fraternity brothers and wives for a four-day reunion. They are from the class
of '59 and it is 59 years since they graduated.